Items filtered by date: August 2022
Tuesday, 09 August 2022 00:00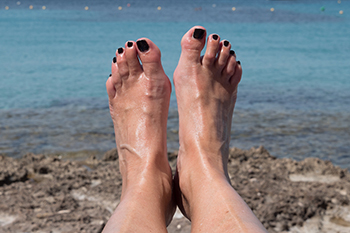 Although a podiatrist can help you maintain the health of your feet, there are many things that you can do every day to practice proper foot health. For example, people other than those with diabetes might consider incorporating a pumice stone into their foot care routine. However, it is important to know exactly how a pumice stone should and should not be used. Pumice stones can be used on the feet to target and remove dry or dead skin. Most commonly, individuals might use a pumice stone to remove dead skin on the heels and around the toes. To use a pumice stone, soak the feet in warm, soapy water for 10 to 15 minutes. Also be sure to soak the stone, as you do not want to apply a dry stone to the skin. Apply the stone to the target area, using small circular motions, gently applying a small amount of pressure. Importantly, if you apply too much pressure, you might remove too much skin. After application, rinse your skin and the pumice stone then pat your feet dry. You might even finish up the routine by applying a moisturizer to the feet. Contact a podiatrist to see if adding a pumice stone into your daily foot care routine is right for you.
Everyday foot care is very important to prevent infection and other foot ailments. If you need your feet checked, contact one of our podiatrists from Seaford Foot Care Center. Our doctors can provide the care you need to keep you pain-free and on your feet.
Everyday Foot Care
Often, people take care of their bodies, face and hair more so than they do for their feet. But the feet are a very important aspect of our bodies, and one that we should pay more attention to. Without our feet, we would not be able to perform most daily tasks.
It is best to check your feet regularly to make sure there are no new bruises or cuts that you may not have noticed before. For dry feet, moisturizer can easily be a remedy and can be applied as often as necessary to the affected areas. Wearing shoes that fit well can also help you maintain good foot health, as well as making it easier to walk and do daily activities without the stress or pain of ill-fitting shoes, high heels, or even flip flops. Wearing clean socks with closed shoes is important to ensure that sweat and bacteria do not accumulate within the shoe. Clean socks help to prevent Athlete's foot, fungi problems, bad odors, and can absorb sweat.
If you have any questions please feel free to contact our office located in Seaford, NY . We offer the newest diagnostic and treatment technologies for all your foot and ankle needs.
Read more about Everyday Foot Care
Tuesday, 02 August 2022 00:00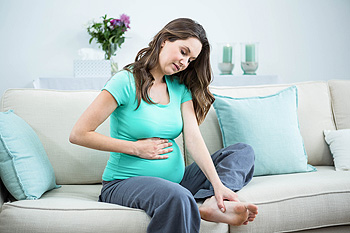 It is very common for women who are pregnant to experience certain complications or discomfort in their feet. This is essentially because during a pregnancy, a woman's body experiences bodily changes that oftentimes will have some sort of effect on the feet. One condition a woman might experience during her pregnancy is numbness in the feet. Sometimes referred to as a "pins-and-needles" feeling, numbness in the feet can be uncomfortable and make walking difficult. Numbness in the feet can occur during a woman's pregnancy because as the fetus grows, the woman's body gets increasingly swollen. This swelling at the ankles and throughout the lower legs can put pressure on nerves that can ultimately make the feet go numb. It is important to note that in addition to the feet, numbness can also affect a woman's hands during her pregnancy. You can reduce the severity of the numbness by increasing blood flow and circulation to the lower legs and feet. If you are pregnant, or are planning to be, consider contacting a podiatrist who can offer you guidance on maintaining proper foot health throughout your pregnancy.
Pregnant women with swollen feet can be treated with a variety of different methods that are readily available. For more information about other cures for swollen feet during pregnancy, consult with one of our podiatrists from Seaford Foot Care Center. Our doctors will attend to all of your foot and ankle needs.
What Foot Problems Can Arise During Pregnancy?
One problem that can occur is overpronation, which occurs when the arch of the foot flattens and tends to roll inward.  This can cause pain and discomfort in your heels while you're walking or even just standing up, trying to support your baby.  
Another problem is edema, or swelling in the extremities. This often affects the feet during pregnancy but tends to occur in the later stages. 
How Can I Keep My Feet Healthy During Pregnancy?
Wearing orthotics can provide extra support for the feet and help distribute weight evenly
Minimize the amount of time spent walking barefoot
Wear shoes with good arch support
Wear shoes that allow for good circulation to the feet
Elevate feet if you experience swelling
Massage your feet
Get regular, light exercise, such as walking, to promote blood circulation to the feet
If you have any questions please feel free to contact our office located in Seaford, NY . We offer the newest diagnostic and treatment technologies for all your foot and ankle needs.
Read more about Pregnancy and Foot Health