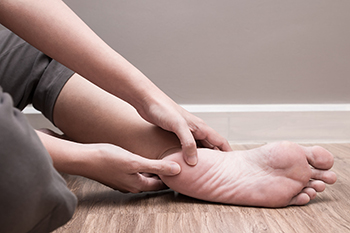 The heel is an integral part of your foot, and it plays an important role in helping the foot function. The heel is located at the back of the foot, and it is situated just below the ankle. The heel also sits right behind the arch of the foot. The heel is primarily composed of the calcaneus bone, which has a rectangular shape, and it is supported underneath by a fat padding and thick skin. In terms of biomechanics, the heel has two interesting and critical functions. First, when standing upright on both feet, a person is aided by the heel because it serves as a kind of weight-bearing support unit. In other words, the heel is stabilizing and protective. Second, when an individual is engaging in physical activities that involve motion (such as walking, running, or jumping), the heel acts as a type of lever which engages muscles in the calf. Taking care of the heel is important. Not only can the skin surrounding the heel become damaged through a condition known as cracked heels, the heel bone can also suffer from afflictions such as heel spurs. If you want to learn more about heels and how you can protect them, contact a trusted podiatrist.
If you have any concerns about your feet, contact Edward Fryman, DPM, FACFAOM from Seaford Foot Care Center. Our doctor can provide the care you need to keep you pain-free and on your feet.
Biomechanics in Podiatry
Podiatric biomechanics is a particular sector of specialty podiatry with licensed practitioners who are trained to diagnose and treat conditions affecting the foot, ankle and lower leg. Biomechanics deals with the forces that act against the body, causing an interference with the biological structures. It focuses on the movement of the ankle, the foot and the forces that interact with them.
A History of Biomechanics
Biomechanics dates back to the BC era in Egypt where evidence of professional foot care has been recorded.
In 1974, biomechanics gained a higher profile from the studies of Merton Root, who claimed that by changing or controlling the forces between the ankle and the foot, corrections or conditions could be implemented to gain strength and coordination in the area.
Modern technological improvements are based on past theories and therapeutic processes that provide a better understanding of podiatric concepts for biomechanics. Computers can provide accurate information about the forces and patterns of the feet and lower legs.
Understanding biomechanics of the feet can help improve and eliminate pain, stopping further stress to the foot.
If you have any questions please feel free to contact our office located in Seaford, NY . We offer the newest diagnostic and treatment technologies for all your foot and ankle needs.
Read more about The Importance of Biomechanics in Podiatry