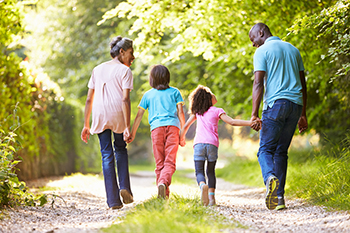 Health experts find that getting on your feet and walking several times a week can make you feel better and help you stay better. Taking a walk is easy on the joints and doesn't pose much of a risk, although some people may wish to use walking sticks if balance is a concern. Walking is a good activity for all ages, so families can walk together. Best of all, walking is free, it can be done almost anywhere, and can be done any time of the day. The most important piece of equipment needed for walking is a good pair of walking shoes. These should fit your foot, have a roomy toe box, and have ample cushioning to reduce stress on the heels. Regular walking can reduce the risk of obesity, heart disease and strokes. It can help improve heart rate and circulation, muscle strength and bone strength. If you need more information on the best way to introduce walking as a regular exercise or help in finding the appropriate footwear, please don't hesitate to speak to a podiatrist for guidance.
Exercising your feet regularly with the proper foot wear is a great way to prevent injuries and build strength. If you have any concerns about your feet, contact one of our podiatrists from Seaford Foot Care Center. Our doctors can provide the care you need to keep you pain-free and on your feet.
Exercise for Your Feet
Exercise for your feet can help you gain strength, mobility and flexibility in your feet. They say that strengthening your feet can be just as rewarding as strengthening another part of the body. Your feet are very important, and we often forget about them in our daily tasks. But it is because of our feet that are we able to get going and do what we need to. For those of us fortunate enough to not have any foot problems, it is an important gesture to take care of them to ensure good health in the long run.

Some foot health exercises can include ankle pumps, tip-toeing, toe rises, lifting off the floor doing reps and sets, and flexing the toes. It is best to speak with Our doctors to determine an appropriate regimen for your needs. Everyone's needs and bodies are different, and the activities required to maintain strength in the feet vary from individual to individual. 
Once you get into a routine of doing regular exercise, you may notice a difference in your feet and how strong they may become.
If you have any questions please feel free to contact our office located in Seaford, NY . We offer the newest diagnostic and treatment technologies for all your foot and ankle needs.
Read more about Exercise for Your Feet